On Tuesday, motorists and consumers stormed fuel stations in fear buying Premium Motor Spirit, PMS, also known as petrol, causing heavy traffic in many parts of Lagos.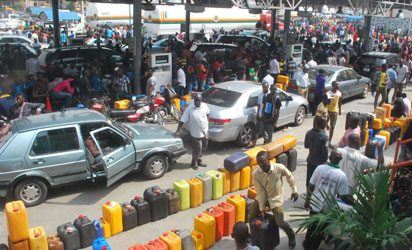 Areas severally affected include; Lagos Island, Ikeja, Ojota, part of Alimosho, Agege, Awolowo Road, Ikoyi, LASU-Iba Road, Ikoyi, and other areas.
Drivers were seen queuing at the Mobil Gas Station, Council-Ikotun Road, Alimosho at 06.30am where petrol was only distributed through one dispenser with four inactive orders.
Fuel attendants were also seen at a gas station on Egbeda Street in Lagos, preventing motorists from entering their premises, citing a shortage of petroleum products.
The situation caused total chaos and long queues of vehicles at various gas stations. Long lines of vehicles spilled around service stations on Monday as drivers struggled to buy petrol, thought to have been exacerbated by increased demand for the product due to power outages.
Although the situation appears to be under control, it is estimated that if the situation does not improve by Wednesday, it will get worse.
According to a tweet by King Adewale Ojomo, the current fuel Scarcity in parts of Lagos is due to the importation of bad fuel in circulation, which is capable of damaging vehicle engines.